The 2022 edition of the Ladies Invitational, at Chippewa Golf Club, is in the books! 24 teams made the event another successful year. Being able to see familiar faces, and seeing new ones helps continue the success of the tournament for years to come.  The course was in pristine shape, and there were a few challenging pins out there. The condition of the course was not the only topic of discussion. The food spread was so immaculate, that many suggested if rivaled that of any private course in the area. Chippewa owner Melanie Stewart, and Hospitality Director Gabby Jones did an amazing job in providing golfers with a diverse menu to appeal to every golfer. 
This year the 50/50 was able to raise $360 for the Northwest Girls Golf Team! Coach Laura Traganza was very appreciative of the opportunity to partner with us for this event. It is of utmost importance to grow the game, and provide more opportunities for all girls to be able to participate in the sport. Thank you to all who helped donate, to help further the girls golf program at Northwest High School.
The team of Cari Hetler, Emily Baumgartner, Amy Eibel, and Stephanie Gutowski fired a 61 to claim the overall gross division victory. They also nabbed 1 of the 5 skins with their birdie on 18. In the net division Krist Dimassa, Mary Sample, Kathy Tomaswick, and Donna Malesky shot a smooth 57 to finish on top by a single stroke, and their birdie on 8 was good enough for a skin as well. Congrats to both teams for their victories!
They may been shut out, but the teams of Ann Filo, Yuka Ueyoko, Sharon Stiff, and Barb Cavanaugh and Tina Vanasdal, Chelsea Shoop, Michele Moulos, and Lorraine win the best dressed award for their perfect outfit coordination.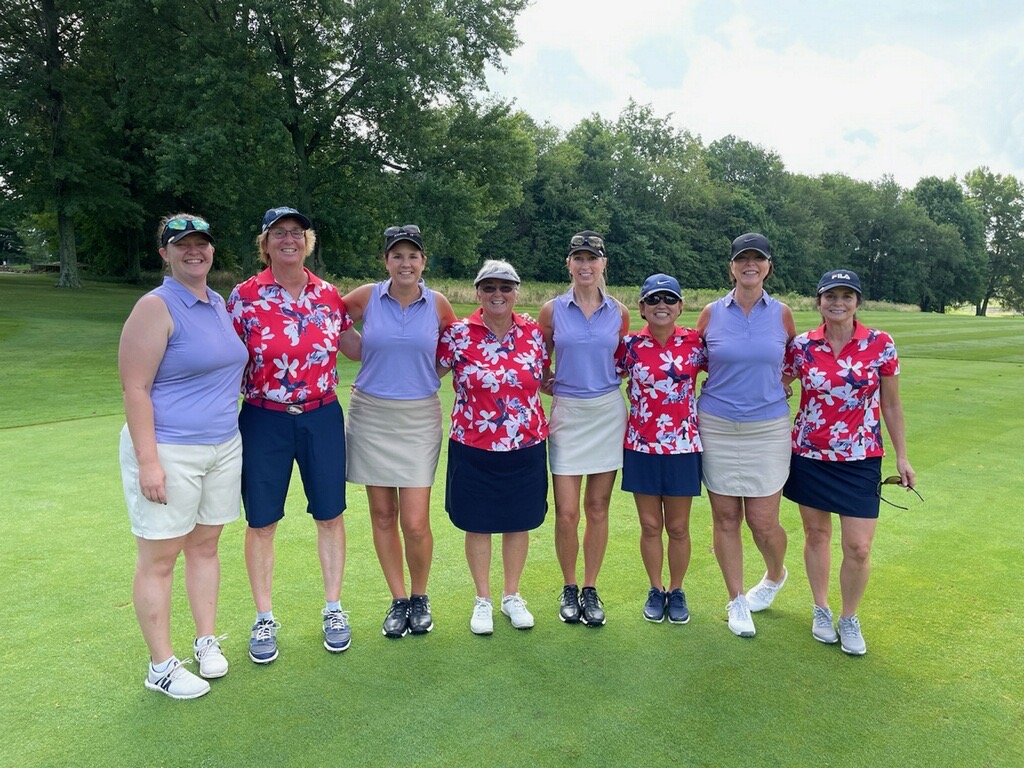 FINAL RESULTS:
2022 Chippewa Ladies Invitational 4-Player Scramble
Chippewa Golf Club, Doylestown, Ohio
Monday, July 25th, 2022
Gross Division:
Cari Hetler / Emily Baumgartner / Amy Eibel / Stephanie Gutowski – 61 $320
Laura Traganza / Missy Gedeon / June Rickey / Fionna Connor – 63 $250 
Connie Teitsworth / Chris Allred / Becky Smith / Diana Walker – 65 $150 
Beth Cooper / Joan Ash / Gayle George / Linda Muckelroy – 68* $100 
Barb Keener / Moreen Wegenek / Ann Sunday / Michelle Kastan – 68 $80 
Net Division:
Krist Dimassa / Mary Sample / Kathy Tomaswick / Donna Malesky – 57 $320 
Cathy Todd / Rita Welling / Jan Todd / Diane Rubin-Shuld – 58 $250 
Bonnie Reed-Bell / Becky Killion / Breanna Depew / Suzanne Bergert – 59 $150 
Pat Larizza / Theresa Straight / Sue Barto / Tessa Skunza – 60* $100 
Karen Steen / Jodie Hughes / Robin Steiner / Terri Zeaman – 60 $80 
Out of the Money
Chelsea Shoop / Tina Vanasdal / Michele Moulos / Lorraine – 70
Shelly Kriak / Laura Ferio / Krissy Krebs / Kim Kibort – 70
Jane Eibel / Maria Osborne / Deb Evans / Jenny Heck – 71
Lisa Madafer / Pam Hodges / Chris Price / Karla Anich – 73
Ann Filo / Barb Cavanaugh / Sharon Stiff / Yuka Ueyoko – 74
Nova Mikel / Debbie Detwiler / Connie Donlig / Cindy Scott – 74
Nancy Rauber / Lori Atkin / Jean Zeluski / Sue Maysparls – 74
Karla Fulton / Jen Moore / Ann Messina / Lichelle Chirakos – 75
Tara Adams / Joyce Blough / Nancy Hranko / Michelle Lawson – 76
Ann McCabe / Janet Holben / Lori MCort / Barb Tarbet – 78
Lavern Strong / Debbie Stambaugh / Kasha Januszewski / Sheila Slife – 78
JoAnn Semans / Nancy McMahon / Marian Houser / Debbie Pianalto – 81
Sandy Kuntz / Sue McDermott / Janet Sessor / Stacy Rabbitt – 81
Elaine Hembury / Robin Karl / Sandy Warman / Doty Aneson – 82


Skins: $100 ea
3 on 3 – Team Eibel
3 on 8 – Team Dinassa
3 on 11 – Team Traganza
2 on 16 – Team Todd (Hole out from 140 yards!)
3 on 18 – Team Hetler